Ford's plug-in hybrid electric Transit Custom van has made its dynamic debut at the Cenex Low Carbon Vehicle 2017 event at Millbrook ahead of trials in London later this year.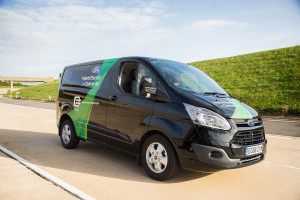 The company is targeting a zero-emission range of more than 31 miles and will use the Ford EcoBoost 1.0-litre petrol engine as a range extender to give a total range of some 310 miles.
The EcoBoost engine charges the on-board batteries when longer trips are required between charging stops.
The plug-in hybrid electric vehicle (PHEV) uses a series-hybrid driveline configuration, with the vehicle's wheels driven exclusively by an electric motor, rather than by the combustion engine.
The battery pack is a compact liquid-cooled lithium-ion design located under the load floor, preserving the full cargo volume offered by the standard Transit Custom.
The PHEV approach not only gives a better range that a battery only vehicle, it also offers a higher payload.
Trials of 20 vans vehicle will start in the autumn and last for 12 months. Volume production is scheduled to start in 2019. The fleets signed up for the tests include:
* Addison Lee
* Autoglass
* British Gas
* BSkyB
* Clancy Plant
* DPD
* Heathrow Airport
* Kier
* Mears
* Metropolitan Police (2 vehicles)
* Morrison Utility Services
* Speedy Services
* Transport for London (3 vehicles)
Mark Harvey, director of the urban electrified van programme at Ford of Europe, said: "Seeing the PHEV Transits on the road is an exciting milestone, and we look forward to teaming up with our London partners and customers to explore how these vans can reduce emissions and operator costs in the city."
To help understand how the benefits of electrified vehicles could be maximised, the 20 PHEV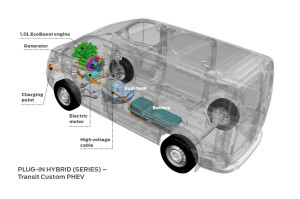 Transits will use an advanced telematics system to collect real-time data on the vans' performance.
In addition, the vehicles will feature geo-fencing technology, which is capable of automatically modifying vehicle settings based on each van's current location. This could be used, for example, to ensure the hybrid system is switched to electric-only mode when a vehicle enters a low-emission zone within an inner-city area.