Cotswold motorsport engineering & fabrication company Venture Engineering has signed a multi million pound deal to buy a warehouse in Witney, Oxfordshire, in order to expand its global F1 business.
The 15,000 sq ft facility at Tungsten Properties' 24-acre Tungsten Park Witney scheme is currently under construction with completion due in March 2021.
Venture Engineering will relocate from its current base in Bourton-on-the-Water near Cheltenham, Gloucestershire. It's Formula 1 and the Le Mans 24h race customers include Aston Martin, Ford, Haas F1 Team, Redbull F1, Williams F1, Prodrive, Noble Automotive and Duncan Hamilton Rofgo.
Adrian Perkins, director, Venture Engineering said: "The move from Bourton-on-the-Water to Witney will aid the expansion of our business. Moving into Motorsport Valley and being near to the M40 are key to our plans.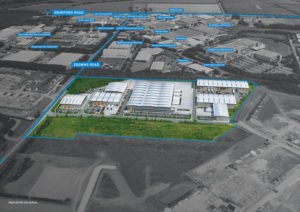 "While motorsport is our background, we are gradually moving into other sectors including transport, battery power, architectural, automotive to name but a few, so this move to Witney will help us quickly achieve our growth goals."
The facility is being built as part of Phase 1 of the 490,000 sq ft park, which consists seven units totalling 289,442 sq ft ranging from 10,000 sq ft to 125,000 sq ft. Phase 2 will be for up to a further seven units totalling 200,000 sq ft.
Tungsten Properties' total warehouse space currently under construction totals 600,000 sq ft, out of a committed pipeline of 1.65 million sq ft with a gross development value of £186 million.
Tungsten is continuing to invest in building warehouse and logistics space across the country as 'the demand for such space is extremely high and we believe that the UK's logistics sector is the safest place right now for new property investment to build new space to meet demand and create jobs'.
Carter Jonas and VSL acted on behalf of Tungsten Properties.