Fleet Operator Recognition Scheme (FORS) is to provide members with a range of FORS ID graphics and warning signage.
Vehicle graphics specialist and latest FORS Affinity Partner RGVA is to supply the high-quality graphics and warning signage at a discounted price specifically for FORS members. FORS has recognised that have encountered problems in producing their own graphics such as IT-formatting issues or in procuring a local printing service. FORS VGS will streamline the whole process to provide standardised signage products for all FORS members.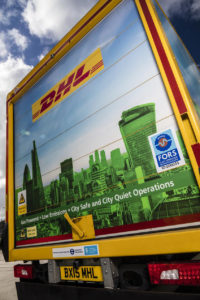 FORS VGS graphics are produced with a three-year 3M Matched Component System Warranty and represent FORS's message of environmental protection.
"Although it is not mandatory to display FORS ID," said FORS business services manager Paul Wilkes, "members are proud of their association with FORS, and want to display the FORS logo as a mark of quality."