The FTA has criticised a report from the Institution of Mechanical Engineers (IMechE), which claims that up to 30 per cent of UK road haulage vehicles are empty. In the report, the Institution called for the government to "urgently introduce" a new multi-modal freight strategy to ease traffic, improve air quality and advance the economy.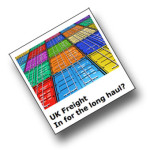 The FTA said that the figures come from the fact that 65 per of the UK population lives within a 150-mile radius of Liverpool Port and 91 per of the UK's deep-sea goods enter or leave from Southampton or Felixstowe.
"IMechE itself notes in the report that the 30 per cent figure is not representative of the situation as it includes such things as petrol and milk tankers returning to base, where there is literally nothing you could put in them. So it is disappointing that they chose to put it forward without caveat in their press release," said the FTA's head of national and regional policy, Christopher Snelling.
"These deep sea ships will call at south-east UK ports as one call out of six or seven in the northern European sea corridor – that is northern France through to the Baltic.
"There is no prospect of them diverting en masse to north-west England. There are many great opportunities for maximising the use of ports like Liverpool for the UK supply chain, but for the IMechE's press release to suggest in isolation that these road miles are simply done without need, is misleading."
The report, entitled "UK freight: in for the long haul', also said that there are on average 150 million preventable lorry miles driven annually.
"The government has taken a welcome step in creating the National Infrastructure Commission, but must now urgently look to create a national multi-modal freight strategy to incentivise optimum use of that infrastructure and better co-ordinate the transport of goods around the UK," said
Philippa Oldham, head of transport at the Institution of Mechanical Engineers and lead author of the report, said: "We currently have empty lorries on our roads, delivering shipping cargo to ports where demand for goods is on the other side of the country, and to wait for air cargo to undergo approval tests in other counties before being allowed to be processed through customs.
"Estimates suggest that congestion costs the UK economy £13bn per year, with poor air quality being responsible for about 29,000 premature deaths each year."