Ahead of the 25th Supply Chain Excellence Awards next week, Forterra's Andy Manning discusses sustainable fuels and supply chain challenges with Nick Bradley
Forterra's Andy Manning admits to a bizarre feeling of excitement when logistics is at "the centre of public discourse", as it seems to be on an almost daily basis currently. "When people see empty supermarket shelves or no fuel at service stations, it brings logistics to the fore," he remarks. "That's when they sit up and take notice of its importance to everyday life."
As well as being one of the 33 judges on the 2021 Supply Chain Excellence Awards panel, Manning is also the Logistics Director at Forterra. The company itself may not be a household name, but its products certainly are – quite literally. Among its extensive portfolio are the famous 'London Brick' and 'Butterley', which date back to the 19th century.
Manning is responsible for managing the team that oversees transport operations across the business, including more than 200 drivers and 180 vehicles, based at 10 different UK locations. He couldn't be better placed to comment on the enormous challenges of the past 18 months as well as those that are still rumbling on.
Foundations for the future
Construction was especially impacted during Covid, with price rises spurred by materials shortages and Brexit mixing with increased demand for building projects during lockdown exacerbating the situation even further.
Meanwhile, the pandemic has been partly responsible for the storm that blew onto UK shores recently as a lack of drivers resulted in fuel shortages. This culminated at the start of October with 200 military personnel being drafted in as part of 'Operation Escalin' to help restock petrol stations that ran dry as a result of panic buying, among other factors.
Manning, though, is not surprised by the media scrutiny on worker shortages generally – it's a constant thorn in the side for many in logistics. "New talent is our single-largest challenge – how we attract and retain staff," he admits. "Recruitment is rapidly developing and at Forterra we are looking to hire those who are discerning and want to bring positive change," he says.
In response to the driver crisis and in addition to expanding its fleet, Forterra launched the 'Work to Wheels' development programme. "We provide full training and cover all expenses for anyone wishing to join the training programme and become a fully qualified HGV driver," Manning reveals.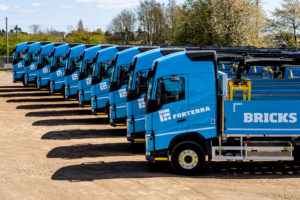 Similar incentive schemes are being announced all the time. John Lewis, for example, recently raised its lorry driver annual salaries by up to £5,000 and has offered a £1,000 welcome bonus to new recruits. A £1,500 sign-on bonus has been offered by Dixons Carphone while Gist has dangled incentives of up to £5,000 for HGV drivers joining its ranks.
Labour and skills shortages aren't problems that are going to magically disappear though – equally they are not a new phenomenon either. "I think there will continue to be a shortage of skilled talent joining the industry so it's even more important to generate positive PR focused on 'selling' supply chain and logistics as an attractive industry to candidates – not just customers – which is the more traditional concern," Manning says.
Attracting younger talent is one of three overarching goals feeding into each other at Forterra, along with continuously improving technology and models to reduce overall carbon footprint. "We endeavour to provide our people with the best tools at our disposal to enable this – bringing modernisation and digitalisation to our supply chain," Manning insists.
Green fleets
A perfect example of this can be seen in Forterra's investment in 60 Euro 6 trucks, which offer lower emissions and increased efficiency, plus an improved working environment for drivers. "Our customers will also benefit with the new vehicles performing more reliably," Manning notes. "By the end of 2022, we expect all of our delivery vehicles to be Euro 6 compliant".
For obvious reasons, Manning follows vehicle developments closely, especially in the field of alternative fuels which he believes are going to "shake up" the sector. "Short term, our focus is on Hydrotreated Vegetable Oils, which we are looking at introducing following a trial," he reveals. "This is the future."
However, although accepting that technology has been a significant disrupter in the industry, Manning feels it may actually be "reaching its limit" when it comes to "how much further it can disrupt". Furthermore, he predicts we will soon see the next innovation in regenerative energy, which he thinks will be a game-changer. "In the medium term, we are looking to start using electric vehicles, which is around two years away," he says. "Longer term, hopefully by the end of the decade, hydrogen-powered vehicles should become the new norm – the cleanest source of fuel that is currently feasible."
Simple but effective

Andy Manning says winning the 2019 Innovation Award at the Supply Chain Excellence Awards with Forterra was a highlight of his career, although he attributes the success to "the amazing people" working alongside him. "I have loved every minute of my career – logistics is a rewarding industry and I feel very fortunate to have worked in roles with some fantastic companies and teams," he enthuses.

"The Awards have great integrity – they are wholly independent and therefore highly meaningful to all winners and nominees," Manning continues. "Being recognised by the Awards is a demonstration of effort and achievement and I find the best applications are the ones that present simple solutions to complex problems. The Awards offer an opportunity to be recognised by your peers and showcase how your endeavours are benefitting the industry."
Generally speaking, though, Manning laments the slow take-up of innovations that have the potential to make a difference. "There is a lot of self-harm done by the industry," he asserts. "I believe the slow adoption of new technology affects the industry as a whole, especially around safety and efficiency where there are benefits to be had if new ideas are embraced."
Weak links in the chain?
Undoubtedly the pandemic ushered in – or accelerated the application of – new technologies, although arguably this was born more from necessity more than anything else. It exposed many more weaknesses in supply chains. "They were too 'skinny' – streamlined to the point of being too easily broken," Manning says. "The trend of organisations buying warehouses to store buffer inventory in the Midlands is evidence that a lot of organisations are thinking similarly. A reliance on 'just-in-time' for goods that are imported or exported internationally is high risk if a pandemic-level event were to reoccur."
Fortunately for Forterra, though, the majority of its supply chain is domestic, which Manning says provides it with much more certainty in a very uncertain world. "A key upside of being a UK manufacturing business is that it makes us far less vulnerable to international supply chain issues," he concludes.
Perhaps this is a lesson that we can all learn from…
There are still tables and seats left for the Supply Chain Excellence Awards 2021, taking place at the Hilton on Park Lane on Monday 8th November. To take part in the supply chain sector's 'Oscars', please click here