The proportion of women in senior supply chain professional roles has increased by six percentage points in the past 12 months, from 11% to 17%.
However, the number of women employed across the supply chain workforce stands at 39%, a proportion that has stayed static over the past 12 months.
According to the Gartner's 2020 Women in Supply Chain Survey of 177 supply chain professionals, consumer goods and retail supply chain organisations' representation of women at senior level is nearly twice that of industrial organisations (25% compared to 13%).
Gartner suggested that one reason for such a disparity could be that 55% of industrial organisations prefer a science, technology, engineering or maths (STEM) degree for senior level recruitment, compared to 39% of consumer organisations.
Dana Stiffler, vice president analyst with the Gartner Supply Chain Practice, said: "The increase in women executive leaders over the past year is a positive sign, however the survey showed that women don't consistently make it through the pipeline.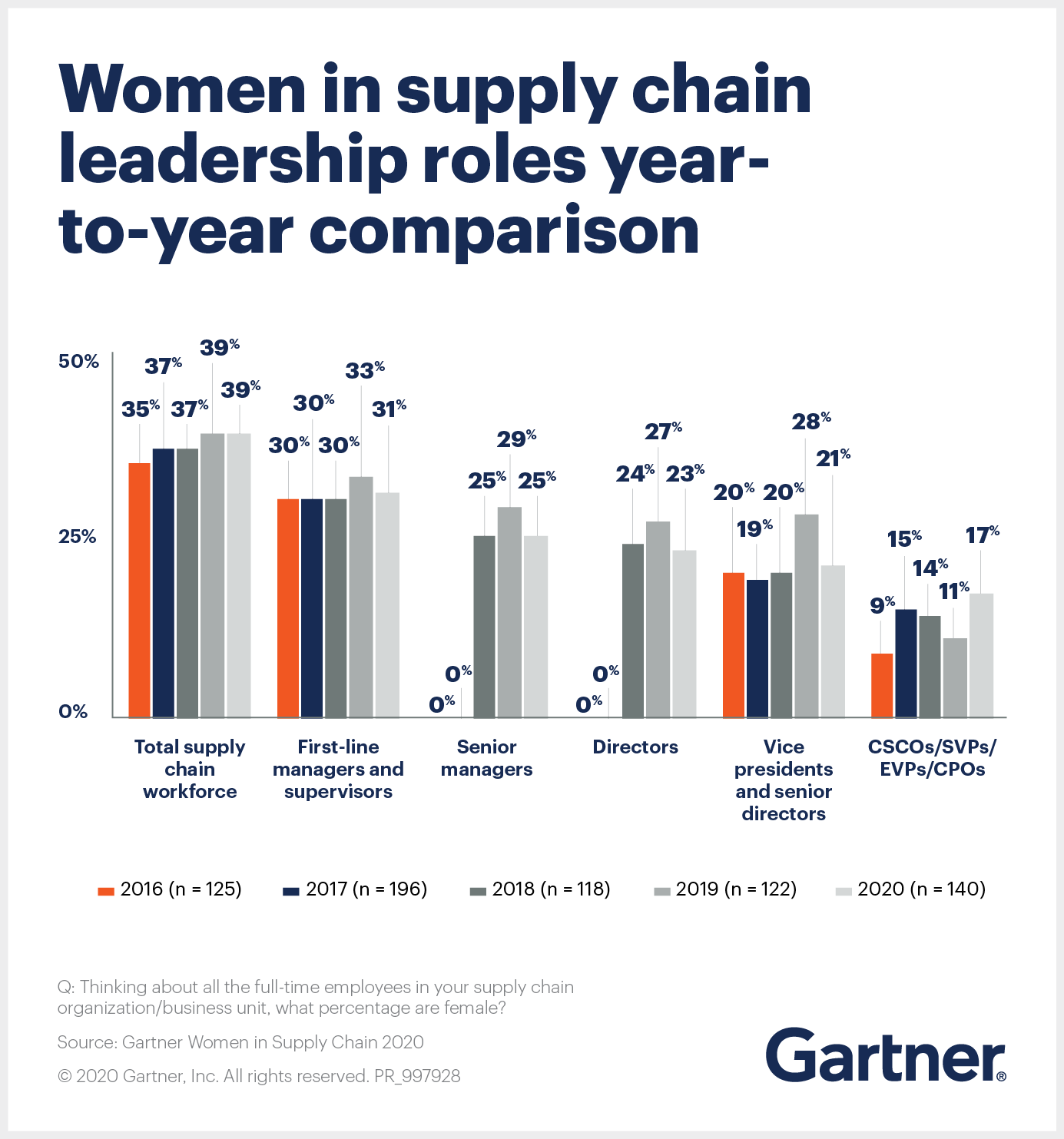 She added: "Lack of progress is not something the industry can afford at the moment. Supply chain's role in the Covid-19 pandemic and subsequent recovery is crucial, with lives and livelihoods at stake.
"This is a pivotal time for many women in midlevel and senior management positions."
The survey also found that some 63% of businesses have active goals, objectives or initiatives to recruit women and build pipelines.
Stiffler added:"Not a single respondent cited employee resource groups as a top action for progressing women to senior leadership roles in supply chain. Leadership development programs or improved work-life balance also didn't make the list.
"However, 21% claim that integrated pipeline planning is their best approach. This reinforces what we have found over the years: The right place to focus for diverse senior leadership is the pipeline and the decisions that support it."