Gazeley has completed work on Altitude, its 574,000 sq ft logistics warehouse at Magna Park, Milton Keynes.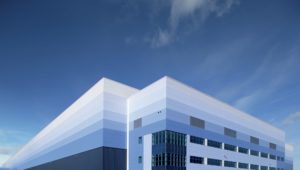 It says the 21m high building is the largest and tallest speculative logistics warehouse in the UK.
The building has an innovative design for maximum operational flexibility and efficiency. This includes: enhanced mezzanine capacity and an increased number of pallet positions; double deck loading doors in every position, at a ratio of one door per 4,500 sq ft; an increased incoming power load provision of up to 4 MVA.
Development director Joe Garwood said: "Altitude brings together a combination of innovation, technology, efficiency, sustainability and intelligent logistical thinking from some of the most experienced figures in the business to create a building that sets a new benchmark for the industry."
The warehouse also includes a host of state of the art sustainability features such as LED lighting, solar thermal heating, rainwater harvesting, power charging stations for electric vehicles and strengthened steel to incorporate Solar PV across the whole roof which allows a customer to save up to 1,300,000 kg of CO2 per annum.