Property developer and investor Gazeley has bought Tritax Symmetry's 220-acre plot of land to the south of Magna Park Lutterworth allowing it to create what is considered the largest dedicated logistics park in Europe in one ownership.
A spokesperson for Gazeley said: "Following the receipt of outline planning permissions for up to 7.5 million square feet of logistics floorspace at both Magna Park and Symmetry Park in Lutterworth, Gazeley has bought Symmetry Park from Tritax Big Box REIT plc's dedicated logistics developer, db symmetry.
"With Gazeley's ownership of both sites, it will be able to deliver a more co-ordinated expansion of Magna Park including highways improvements and greater public transport benefits. This will ensure we can better serve the local community, improve estate management and further mitigate the overall impact of the development."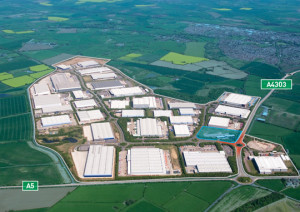 Tritax Symmetry – as dbSymmetry, prior to being bought by Tritax – secured outline permission for nearly 3 million sq ft of warehouse space in 2017 on a 220-acre plot south of Magna Park while Gazeley finally secured planning for a 4.5 million sq ft expansion to the north of Magna Park, in April this year.
The combination of all three sites Magna Park Magna Park North and Symmetry Park – now known as Magna Park South – totals some 1,360 acres and could eventually have 15.8 million sq ft of buildings
In August this year Gazeley submitted detailed proposals for four warehouses on Magna Park South ranging from 100,000 – 755,000 sq ft.
The largest warehouse, known as Building 8, is set on a 31-acre plot and looks to total 755,831 sq ft. It is proposed that it will have 18m eaves as well as 100 dock and eight level access doors, parking for 150 trailers and 557 cars.
The price paid is being kept confidential though industrial land prices per acre of around £700,000 could put the price in the region of £154 million. One suspects that the deal was mutually beneficial.
By Liza Helps