Investor developer Gazeley has acquired a 25-acre site near Bedford, to speculatively develop three new warehouses totalling 534,000  sq ft in partnership with L&Q Estates.
The new development, which is to be named G-Park Bedford Wixams, will comprise three new logistics warehouse units comprising 249,000 sq ft, 125,000 sq ft and 160,000 sq ft respectively.
G-Park Bedford Wixams is expected to be completed in Q3 2020 and will be suitable for leading e-commerce, logistics and distribution companies.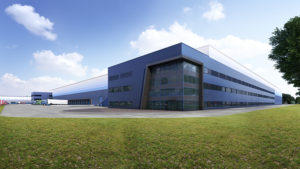 As is standard for all Gazeley projects, G-Park Bedford Wixams will benefit from best-in-class specifications including wide service yards, 15m clear internal height, a minimum of 15 dock and two level access doors together with generous car and HGV parking and an array of energy saving features.
In addition, the new units will each feature the enhanced Gazeley 'standard' specification 2020 which includes an ultra-modern treatment to the design of the office elevations together with a range of market leading enhancements. Amongst the new innovations includes a new feature reception, the use of natural materials and finishes throughout, together with cutting-edge technology which will allow building users to actively manage their energy usage and provide real-time information on building/operational utilisation.
The site is situated three miles to the south of Bedford and a few minutes' drive from the A421.
Adrienne Howells, development director at Gazeley, said: "This acquisition and intention to develop speculatively further underlines and strengthens our position in the UK as we continue to expand our land-bank and development platform responding to the compelling demand for logistics and distribution space. As the unprecedented growth of e-commerce continues to drive warehouse demand, Gazeley is well-positioned to support these growth trends by offering both space and technology-led solutions to drive value for its customers."