Gist has retrofitted 120 reefers with TrailerConnect, the Schmitz Cargobull telematics system that allows trailer performance to be monitored on the road.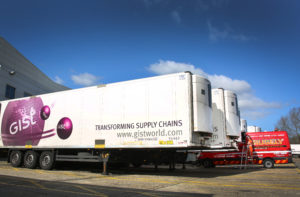 The system remotely monitors the internal temperature, tyre condition and door security of all its refrigerated trailers from a single dashboard – using the information to make planning decisions that reduce running costs and maximise fleet uptime.
Gist was already operating 54 Schmitz Cargobull units factory-fitted with the system.
Engineering director Sam de Beaux said: "We've had impressive results from our existing smart trailers, which have been more cost-effective to run and easier to maintain. Schmitz Cargobull's telematics retrofit service means we can enjoy those benefits across the whole of our fleet; it was not a difficult decision to upgrade our existing assets."
Logistics company reduces emissions with 40 Schmitz Cargobull trailers