After 6 years in France, Gojob is going global and wants to revolutionise the labour market in the UK.
Building a more inclusive future thanks to technology
Created in 2015 by Pascal Lorne, Gojob has become France's leading job marketplace with over 500,000 workers and 900 clients, specialising in logistics, industry and service sectors. Gojob has the french label of social and inclusive company: every day, Gojob commits in finding jobs for its temporary workers, without discrimination, whatever their age, gender, ethnicity, degree or experience.
Gojob is much more than a temporary recruitment agency: by using digital technology to offer 24/24 support and skills development solutions specifically adapted to temporary workers (also called 'gojobbers'), Gojob allows its gojobbers to grow. That is Gojob's mission.
Improving the UK market by providing innovative solutions
In a market with candidate shortages as in the UK, Gojob provides an innovative and above all ambitious digital solution thanks to its genuine know-how in the labour market.
By using the technology to serve people, Gojob adds value to its gojobbers' life by offering exclusive services, and gives guarantee to companies with its unique recruitment method. Temporary workers can find a job that suits them quickly, thanks to Aglae, Gojob's artificial intelligence, which offers a personalised experience to candidates based on their skills, motivation and interpersonal skills. They also can live easier with the Daily payment which offers financial services adapted to their needs. Moreover, they can develop their careers with free digital training programs, available anytime, anywhere at each step of their professional path (from recruitment to permanent training).
As a leader in France, Gojob's innovative approach with its 100% digital recruitment platform is revolutionising the employment path. That's why the company is known as a major player constantly innovating with significant investment of €10m in R&D. And more and more investments are coming to demonstrate the benefits through Gojob's training program to companies currently facing major skills shortages.
Gojob has strong assets to make the difference for its UK clients:
1) Best workers <1% no-show
– Sourcing: our matching algorithm (AI-based) matches your mission with best profiles
– Selection: 30' phone interview with each candidate to check soft-skills and motivation
– Training: systematic training and onboarding for all workers
2) More reactive – 5x faster thanks to digital
– Area with workers: automated candidate sourcing & selection process
3) More competitive
– Direct gains: 15-20% cheaper than traditional
– Indirect gains: x3 on internal productivity gains (HRIS connected & online KPIs)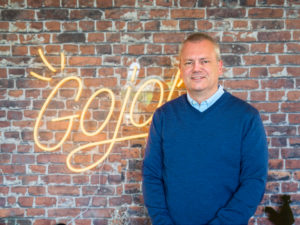 "Temporary workers, who are the backbone of the Logistics Industry and essential during peak season, have a complicated choice of what agency to work with. It's even harder to register and communicate with multiple agencies which many feel they must do. We want to make Gojob the easiest way to find their next assignment and in doing so become the UK leader in the future of work. Our digital tools make this possible from initial registration to job push notifications to online training. It's a personalised digital experience." – Steven Kirkpatrick, CEO of Gojob UK
Even if Gojob has just set up in the UK, the company already won prestigious awards in France but also internationally: Gojob has worked its way up to 18th place in the prestigious Financial Times FT1000 ranking and is the first French company on this list.
And this is just the beginning in order to become the future of work global leader!
Learn more about us online:
https://gojob.com/en_gb/corporate/
https://www.facebook.com/gojobUK
https://www.linkedin.com/company/gojob-uk/
Contact us:
Steven Kirkpatrick, CEO steve.kirkpatrick@gojob.com