Warburtons has appointed Goodyear Tyres to supply premium tyres for its UK fleet of 906 tractor units, trailers, rigid trucks and vans to help boost the efficiency and safety of its fleet on a three-year agreement.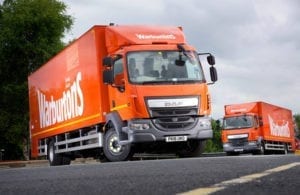 Warburtons will equip its fleet with tyres from Goodyear's KMAX range which are designed to provide extensive mileage, help reduce down time and maintenance cost as well as providing superior performance in adverse winter weather.
Warburtons will also trial Goodyear's Proactive Solutions Tyre Pressure Monitoring System (TPMS) which collects data on a tyre's pressure and temperature in real time. This enables under-inflated tyres, punctures and mechanical issues to be identified and resolved quickly.
Goodyear's dedicated support network TruckForce will also be available to assist with breakdowns and tire services.