Guide Dogs is embarking on a programme to replace the vehicles it uses to transport its dogs with specially-adapted, multi-purpose Peugeot vans by 2022 and is to add 40 Peugeot Partner Crew Vans later this year.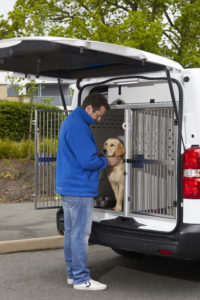 The charity has already received 40 Expert Long Professional models, which can perform multiple roles and offer increased capacity for carrying dogs. 29 were converted to transport up to eight puppies in their early months at a time and the remaining vans were converted Crew Van models designed to carry up to four dogs and their professional guide dog mobility instructors and eventually their partners, during their training programme.
The Expert Crew Vans feature glazed, twin sliding doors to access the folding second row seat. The seat can carry up to three people and has three-point seatbelts in all positions. It can be folded forward to provide additional storage space or provide access to the dog cages from the front.
The dog cages are spacious and have temperature monitoring and video cameras. Both panel vans and crew vans have the optional tailgate in place of twin rear doors to give shelter when the dogs leave and enter the cages.