Ice-cream company Froneri, the force behind brands including Häagen-Dazs and Nuii, is investing £750,000 on a 10,000 sq ft extension at one of its Skelmersdale warehouses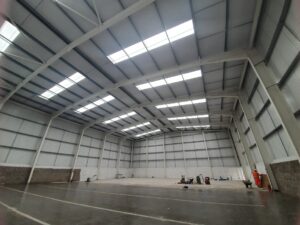 Leeds-based Castlehouse Construction has been appointed to complete the project which will see the Froneri double the industrial unit size on its Lancashire site to support continued business growth.
The warehouse extension will be 9m high to accommodate the installation of automated racking.
Castlehouse Construction has started on site with the steelworks erected and the project is earmarked for completion by early August.  The whole building will be completed and operational by the summer.
Froneri chief executive Ibrahim Najafi, said: "The Skelmersdale expansion will enable us to meet increased demands for our products in line with our strategic growth plans."
Froneri was formed as a joint venture between North Yorkshire-based R&R Ice Cream, owned by PAI Partners, and Nestle in 2016 and employs 900 staff in the UK. It is headquartered at Leeming Bar, in North Yorkshire and has sites in Skelmersdale and Cornwall.