Parcel carrier Hermes is to invest some £41 million in a new 340,000 sq ft mega hub in Barnsley, South Yorkshire.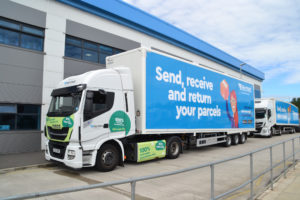 The new hub forms the backbone of a hybrid planning application by Newlands Developments for a larger scheme, which includes a further 770,000 sq ft of distribution and storage space on a 132-acre plot on land west of Sheffield Road, Hoyland just off Junction 36 of the M1 motorway.
It has been estimated that the proposed development could support the creation of 2,000 new jobs in total, with 800 generated at the Hermes distribution centre.
Newlands Development is sinking some £58m nto the schem with a further £30 milliuon earmarked for infrastructure which includes the creation of a new roundabout and linkroad.
Hermes has agreed a 20-year lease on the new mega hub.
Cushman & Wakefield is advising Newlands developments.
Only this week Hermes UK announced that it was spending £100m expanding its warehousing capacity, as well as recruiting 10,500 new employees, to deal with the demand for e-commerce created by lockdown.