The RHA has rejected Local Government Association (LGA) claims that pot-hole levels are "likely to surge" due to an increase in the number of HGVs. The LGA said that the "heavier the vehicle, the more pressure is likely to be exerted on road surfaces, causing them to crumble quicker and form potholes".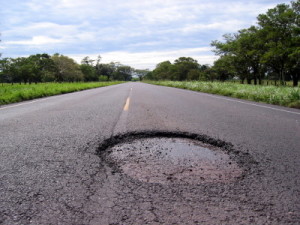 The RHA said that the haulage industry has been made a scapegoat for years of under-investment in road maintenance. The FTA has also blamed lack of investment for potholes.
"Local authorities have failed to maintain their infrastructure,"said Richard Burnett, RHA chief executive. "Maintain roads properly and repair them after the installation of pipes and cables, and there will be little problem with pot-holes. Failure to do so will see problems multiply, along with the cost of repair and associated congestion. However, where additional wear and tear is as a result of overloaded vehicles, the RHA strongly supports effective enforcement.
"Our lorries now are no more damaging to our roads than they have been for many years, in fact quite the opposite. However, the damage to vehicle suspensions and tyres as a result of poorly maintained roads costs the haulage operator thousands of pounds each year".
The FTA's head of policy Christopher Snelling said: "Freight levels on our roads are still not back to the pre-recession totals of 2006. So the LGA's assertion that HGVs are solely responsible for the increased number of potholes on Britain's roads is incorrect.
"It also indicates a clear lack of understanding of the impact of freight vehicles. Larger lorries do not cause increased damage to the road surface – in fact, they have more axles which spread payloads more evenly. When combined with road-friendly twin tyres and road-friendly suspension, this reduces the impact of road usage by lorries. Moving to a greater number of smaller vehicles would not ease the problem, but would simply compound the impact on an already weakened infrastructure."