Upwards of 500 logistics jobs are thought to be at risk in Stoke-on-Trent when H&M opens its first UK wide omni-channel DC in Milton Keynes.The fashion retailer is looking to recruit up to 800 people at its 785,765 sq ft logistics hub where it will serve both H&M stores and online business however, the opening of the highly automated DC will also mean the closure of its facility at Radial Park which is run by XPO Logistics with about 129 XPO members of staff and in the region of 400 agency warehouse workers potentially affected.
In a statement on behalf of XPO and H&M a spokesperson said: "As previously announced, H&M will open a new distribution centre in Milton Keynes in 2020. The service currently carried out by XPO at the Radial Point site in Stoke [on-Trent] will transfer to the new H&M site in Milton Keynes.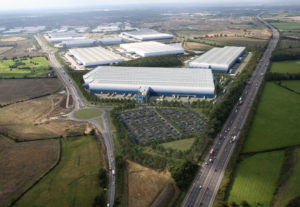 "H&M and XPO continue to work closely to find and discuss suitable solutions for those currently employed by XPO and working on the H&M account, and affected XPO employees have been offered the option to transfer to the new H&M site at Milton Keynes via Transfer of Undertakings (Protection of Employment) Regulations 2006 (TUPE)."
Recruitment for the Milton Keynes site started in July last year. The facility has a number of  employee friendly amenities including access to an on-site gym, a roof garden, a subsidised canteen and free parking.
H&M UK logistics manager Rachel Wells said: "[The Milton Keynes DC] will become the backbone of H&M's online and in-store operations in the UK and Ireland, so our new Logistics Associates will have an incredibly important part to play in the everyday running of our business."
H&M struck a deal for the centre in late 2017 on a 20-year lease at a rent believed to be £6.50 per sq ft.
At the time of the deal announcement, H&M UK & IE logistics manager Fay Rennocks said: "We believe that the technological solutions in place at our new DC will reduce the need for our employees to engage in repetitive tasks, while enabling improvements for customer service."