Horizontal collaboration across European supply chains offers the opportunity to improve customer service and reduce costs.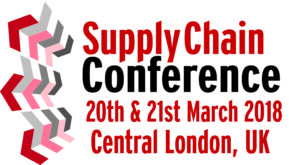 Professor Alan Waller, chairman of ELUPEG, will analyse the benefits of horizontal collaborations with other businesses, including competitors – particularly in terms of vehicle utilisation and customer service.
He will also consider some case study pilots that demonstrate the success of horizontal collaboration in practice.
The conference, which takes place at the Grand Connaught Rooms on 20th and 21st March 2018, will include a presentation from Severn Trent, the Overall Winner in the 2017 Supply Chain Excellence Awards.
Chris Wand, head of supply chain & logistics at Severn Trent, will explore the different strategies that were used to create a better working environment for the public and third sectors and how this improved efficiencies working within all departments of the organisation.
Confirmed Speakers:
Christian Seemann, vice president supply chain management parts, MAN Truck & Bus AG
Jason Russell, supply chain manager, Mitchells & Butlers
SSgt Philip Bradley, Senior logistics & supply chain manager, Royal Engineers, British Army
Lucy Barks, head of contract manufacturing, innocent drinks
Juan Fernando Ramirez, global CS&L consultant, Heineken
Prof Alan Waller OBE, chairman, ELUPEG
Sandra Soolate, head of UK business development, Starship Technologies
Duncan Buchanan, policy director, RHA
Deon Pillay, head of supply chain, Nando's
Terry Chan, chairman of Hong Kong eCommerce, Supply Chain Association
Vic Segebarth, VP supply chain UK & Ireland, Molson Coors Brewing Company
Richard Hunt, CBE, Hon FCILT, VR, past chairman, The London Ambulance Service
Graham Young, logistics performance & improvement manager – Europe Africa, Shell
Rachel Wilshaw, ethical trade manager, Oxfam GB
Nicky McGroarty, head of supply chain & commercial planning, Telefónica UK Limited
Pauline Bastidon, head of European policy, Freight Transport Association
Debi Hamilton, vendor supply manager, Arco
Sylvain Alende, supply chain collaborative planning senior manager, Schneider Electric
Maj Joe Monaghan, engineer logistics officer, Royal Engineers, British Army
Fionnuala Horrocks-Burns, employment & skills policy adviser, British Retail Consortium
Simon Pattenden, international supply chain projects manager, The Body Shop
Karl-Heinz Meister, head of UK Parts, MAN Truck and Bus UK Ltd
To find out more about the Supply Chain Conference, click here.