A new supply chain programme by Sanpower Group is to bring Chinese brands to the UK, Europe and the rest of the world through House of Fraser.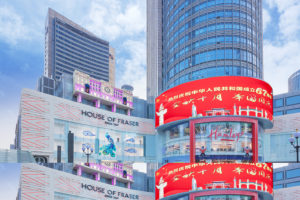 The programme involves a supply chain management platform which aims to spur local premium brands and products to expand into new markets.
Under the programme, the new Sanpower Supply Chain and Branding Management Centre will undertake and manage House of Fraser's trade orders.
"The traditional image associated with Made in China is changing," said Simon Pickering, House of Fraser's UK global product sourcing director. "Increasing numbers of high-quality Chinese products are becoming popular with British and European consumers. Once these products enter House of Fraser's sales channel, they will be able to access Europe and the greater global market, given quality and credit endorsement from House of Fraser.
"Furthermore, consolidating our global supply network through made-in-China products and Chinese brands will support House of Fraser in further boosting sales and competitiveness."
Kong Jun, Sanpower's new commerce industry group CEO, remarked: "This is a great platform for premium Chinese products to reach the UK and further afield across Europe. Chinese manufacturing has transformed in recent years from extensive processing and production into a new era marked by independent designs, proprietary brands and innovation. We are excited to use our tremendous network of resources and cross-border retail expertise to bring the best of Chinese retail to the UK market in a way that brings great value to customers and brands alike."