German chemical and fuels logistics giant Hoyer said it is in a good place to 'confront the effects' of coronavirus on its business despite a subdued 2019 that saw a 0.9% rise in turnover.
For 2019 Hoyer achieved a turnover of €1.17 billion (£1.04bn), but profit before tax dropped to €38 million, from €40 million in 2018.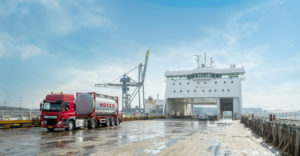 Hoyer said the chemical industry had seen a downturn in production volumes in 2019, which in turn led to a drop in demand for its logistics and supply chain services.
However it did single out the UK, where it said it had experienced larger volumes with service station supply contracts, both existing and new, and it had also benefited from new business and logistics growth for gas.
In its supply chain solutions division Hoyer said it had benefited from process automation achieved by implementing transport management software developed in-house, as well as the deployment of telematics across its tanker container and truck fleet.
It said its 2020 focus would be on further developing digital supply chain and logistics solutions, such as its sensor system for tankers, which transmits data for analysis to improve transport flow control, capacity utilisation and safety.
Looking to 2020 Hoyer said it had initially planned for suppressed demand for its logistics and supply chain services in the chemicals sector, particularly driven by low demand from the automotive sector, but the coronavirus pandemic had "completely changed the situation".
It said that in the face of global recession it expected turnover in its chemicals transport and service stations supply areas to be significantly lower and it had already reduced investments to the essential, strategic projects.
Chief executive Ortwin Nast, said: "Thanks to our global presence and strong network, we can meet our customers' regional and international logistics needs along the supply chain in an optimum way."

The 24th Supply Chain Excellence Awards, with new categories for 2020 – including the Energy Supply Chain Excellence Award – will take place on 12 November. For more information, including how to enter and sponsorship opportunities, contact daniel.jessop@akabomedia.co.uk