Hyster-Yale Materials Handling has warned that measures taken by governments and businesses to limit the spread of coronavirus are adversely affecting the company, its customers and its suppliers.
The company said that production had been significantly reduced or suspended in several of tits  European facilities for varying periods through to 15 April, largely due to material shortages from suppliers which had closed manufacturing plants and other constraints COVID-19 had placed on European supply chains, including increased controls at borders, border closures and traffic delays.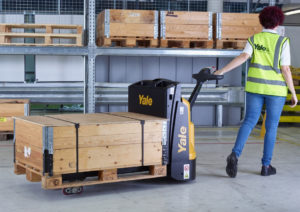 Hyster-Yale also warned that it expected additional production disruptions in other regions outside of Europe and its main concerns included its supply chain and its ability to receive goods on a timely basis at anticipated costs alongside logistics costs and reduced demand for the its products.
In a statement on its website the forklift manufacturer said it remained committed to meeting the needs of customers and ensuring they receive equipment, parts and services in a timely manner. it said that during disruption in production, supporting dealers´ and customers´ service demands remained a top priority.
Hyster-Yale chairman and chief executive Alfred Rankin said: "The company is fortunate to have very experienced leaders who have managed through challenging situations in the past.  We expect to successfully navigate through this difficult period as well."