IAG Cargo has moved over 1,000 tonnes of medical equipment and supplies in response to the COVID-19 pandemic, include 55 tonnes of hand sanitiser destined for the NHS on a single flight.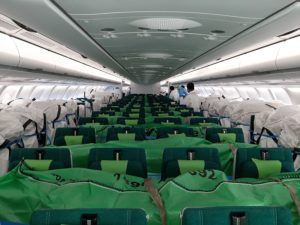 IAG Cargo is operating charter and cargo only flights to transport critical goods like personal protective equipment (PPE), hand sanitiser and ventilators.
Shipments have included hand sanitiser supplies from China, India and the Middle East to London Heathrow. The largest shipment booked to date was a single charter on a British Airways aircraft carrying 55 tonnes. IAG said that more than 100 tonnes of sanitiser have been shipped since March.
Furthermore Aer Lingus and IAG Cargo are operating up to five flights per day from Beijing to Dublin to transport PPE. This is set to run for two months in a supply operation for the Irish Health Service Executive (HSE).
IAG Cargo Lynne Embleton chief executive, said:  "The events of recent weeks have put our adaptiveness and agility as a business to the test. We have provided new services through charters and cargo-only flights and established new routes to put freight capacity where it is needed.
"The whole IAG Cargo team is proud to be providing these key services to maintain the flow of food and essentials and to support the unprecedented demand for medical items. We are working closely with airlines, governments, health authorities and industry partners to keep these vital supplies moving."