IDI Gazeley has lodged revised plans for its 4.6 million sq ft extension to Magna Park Lutterworth in the East Midlands.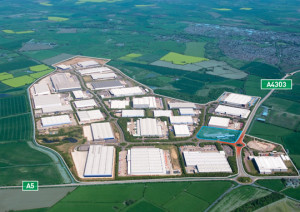 The new plans involve reducing the number of properties to be demolished including the historic Bittersby Lodge in an effort to mollify protesters.
The proposals to be determined later this summer include 4.6 million sq ft of warehousing with ancillary offices; 39,800 sq ft for a Logistics Institute of Technology; 97,000 sq ft of small business space; and the creation of a 105 acre country park.
IDI Gazeley has already secured planning permission for a one million sq ft distribution centre for DHL Supply Chain at the site.
A third application submitted by Barwood and Delancey property joint venture dbsymmetry proposes a 3 million sq ft strategic logistics park on a 220 acre site located just south of Magna Park to be known as symmetry park. The scheme could also provide a cross docked facility of over 1,250,000 sq ft in a single floor plate. The scheme has the potential to deliver some 3,500 additional jobs.