IDI Gazeley is to start construction on a 574,000 sq ft warehouse at Magna Park, Milton Keynes. The new development is said to be the largest built in the UK since the financial crisis.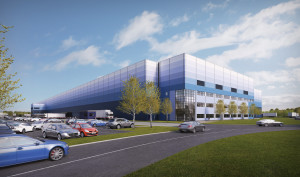 Construction is to begin in May this year, and is expected to complete by the end of the year. The building is to be targeted at logistics, distribution and ecommerce companies.
The 21 metre high building will include LED lighting, DESG partitions, solar thermal heating and rainwater harvesting.
Magna Park is already home to big brands like John Lewis, Waitrose and River Island.
Alex Verbeek, senior vice president & managing director UK, IDI Gazeley, said: "This asset will undoubtedly attract strong interest from potential occupiers not only because of its great location and supply of labour but also because of its unrivalled sustainability credentials. Energy efficiency is fundamental to our design process and this development goes far beyond what is required from building regulations in terms of sustainability. We believe that this approach will make an extremely positive contribution to the local environment."