S&S Plastics has launched a new solution to solve a significant number of the issues facing the warehousing and logistics industries. The S&S Plastics Insert Tubs offer the potential to increase operational efficiencies by up to 800%.
The S&S Plastics Insert Tub is a 100% recycled polypropylene tote insert that creates a fully configurable solution inside storage and stack nester totes, which allows for up to eight separate SKUs to be achieved inside a single tote.
This approach solves the traditional problem in warehousing and logistics of totes being predominantly empty on their travels, by allowing a variety of different-sized SKUs within a single tote.
With integrated barcode tracking preconfigured, this unique solution gives warehousing operators and logistics firms new options in the creation of faster service times. Fully compatible with standard 600 x 400 totes – and exceeding the Global FM drainage standards – the S&S Plastics Insert Tubs present operators with a secure and robust solution to wasteful correx inserts and flimsy cardboard.
"Every day we are in contact with logistics and automation firms as part of our normal business routine, and so often we'd hear about issues with inefficiency and cross contamination," commented Nick Bortone, Managing Director of S&S Plastics. "We resolved to sort out the problem ourselves. The S&S Plastics Insert Tub was the result of using those frustrations and our plastics moulding experience to come up with something innovative and ground-breaking."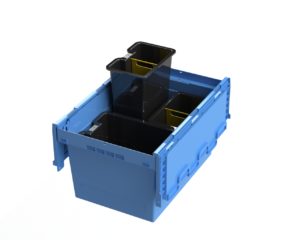 "As we were going through the design process, we realised that actually not only are we increasing the efficiency of a logistics process but ultimately we are really bringing some environmental benefits as well," added Joe Joyce, Business Development Manager, S&S Plastics. "The S&S Plastics Insert Tub now ensures that factory operations are more efficient, and trucks are able to carry far more product, and stop shipping air!"
"We've been delighted with initial uptake of the S&S Plastics Insert Tub – our order book has received orders for more than 50,000 units in just a couple of weeks after a soft launch. It's truly testament to the scale of the problem and challenge that businesses have faced. As we roll out this solution to the wider business community, we are really looking forward to the many positive impact the Insert Tubs can have," concluded Bortone.
The S&S Plastics Insert Tubs are manufactured in the UK, at the company's Nottinghamshire base of operations.
S&S Plastics will be displaying its innovative Insert Tubs on Stand 511 at next week's Robotics and Automation show, taking place at the Coventry Building Society Arena on 2nd and 3rd November