Innovators in logistics robotics drew big audiences at the conference sessions at Robotics and Automation, which saw keynotes from both Ocado and Amazon as well as presentations from technology leaders such as Dematic and ABB.
How Ocado is taking robotics to the grocery world
Alex Harvey, head of robotics and autonomous systems at Ocado, gave the keynote presentation on the first day, highlighting the opportunities and challenges of developing automated and robotic systems for grocery.
Ocado's first fulfilment centres at Hatfield and Dordon used automation technology bought in from the major systems suppliers. Harvey pointed out that the sequential nature of the operation meant that it was necessary to build a large complex system that before the volume of business built up enough to make it worthwhile.
Since then, Ocado has developed its own robot-based systems in-house which address the scalability problem. It is these systems that it is now selling to other retailers around the world.
Ocado's robotic warehouses use stacks of bins to store goods. These stacks are arranged in a grid with robots working on the top to locate the relevant bin and move it to the pick station.
The system can start small and be expanded as business grows, said Harvey. And it is resilient. All the complexity is in the robot, and if one fails it can easily be taken for repair without impacting service levels.
Ocado is now starting to work on robotic picking and expects to have a system up and running this year. This uses a simple suction system and can be used for about 6,000 of the 50,000 skus that Ocado holds. Harvey said it is participating the SOMA project which aims to develop more sophisticated picking technology in the future.
More robots mean more jobs, says Amazon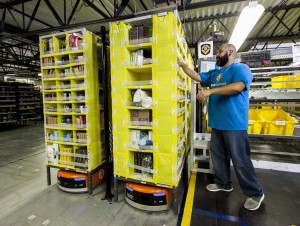 The rise in robotic technology does not threaten human jobs, Amazon's regional director Jonatan Gal told logisticians at in the opening conference session of the second day.
In a presentation that focused on automating picking and packing processes in retail, Gal looked at the collaboration between humans and robots. "Our robotics enable flexibility and scalability for Amazon," he said. These robots work in collaboration with humans, taking on tedious roles and handling more complex operations like crunching numbers and assessing databases.
In the future Amazon hopes to increase the use of robots to increase the density its inventory to generate more throughput and raise profit margins, seeing where there is a smaller and smaller footprint of property and people as it aims to "push the boundaries of reducing the need for labour but will always need people."
However, said Gal: "People are still at the centre of the operation." He explained that Amazon is working on retaining people, including its recent adjustment the wage it pays its workers. "The real key is retention," he said, "making sure they feel welcome and stay". Robots around you will still work and Amazon still intends to focus on people, he added.
"I can't see the dynamic changing anytime soon," said Gal. Alongside more robotics use in Amazon's warehouses, he also agrees that this will be require "many more people for years to come". Therefore, there is no danger of human workers potentially losing jobs in the years to come as the use of robotics takes off in retail.
Companies need to move on robotics now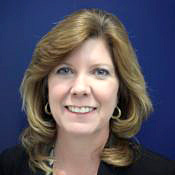 Companies need to start working with the latest automation and robotics technologies sooner rather than later, Crystal Parrott, vice president for Dematic's Robotics Centre of Excellence told a packed conference session at Robotics and Automation on Wednesday.
Parrott said the pace of adoption of robotics in logistics was lagging compared to the rate of development of the technology.
And she argued that companies can get benefits from using robotics now – even if some manual work is still required. The pace of technological development is such that systems will become more capable very quickly.
Parrott examined innovations in key technologies that are advancing robotic capabilities, as well as the roadblocks to widespread adoption
Automation specialist Dematic created the Robotics Centre of Excellence in March of this year. It is responsible for the application and implementation of robotic solutions that make order fulfilment operations more efficient, productive and responsive to today's on-demand omni-channel distribution environment.
And in another conference session, Russell Holmes of robotics giant ABB warned his audience that there is a robotics revolution going on in logistics.
Holmes outlined the challenges facing the logistics operations with market demands putting more and more pressure on distribution centre operations. He pointed to the prise in e-commerce, increasing labour costs and labour shortages.
And he went on to look at how automation is playing an increasing role in warehouse operations, particularly the use of robots in decanting goods, along with some robotic picking and sequencing and palletising for despatch.
ABB is focusing on the bottlenecks in the warehouse processes where the use of robots can make a difference, Holmes told delegates.
He also looked at the development of cobots – collaborative robots. There currently four levels of collaboration, he said, starting with caged robots that operated completely separately to humans. The next level is co-existence: there is no fencing of the robots but they still work in their own space and do not interact with humans.
The third level is synchronisation where the robot and human work on the same product but not at the same time – this is where most cobots are at the moment.
Finally, there is co-operation where the robot and the person are working on the product at the same time.
ABB has also developed a process of virtual commissioning that allows systems to be deployed more quickly and efficiently. This allows up to 90 per cent of the commissioning to be completed off-line.
Holmes highlighted some of the advantages of robotic systems including reliability and robustness, flexibility and high throughputs. And, he said, it addressed the labour cost problem with a return on investment of less than two years.