inotec UK has completed a large warehouse finishing project for a leading chilled and ambient food manufacturer at its warehouse and distribution site in Leicester.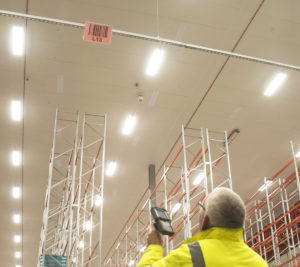 inotec replaced 2,824 metres of line marking with its DURAline Rapid Shield UV cured top coat solution. It also designed and installed 80 overhead wire hanging warehouse signs with retro-reflective barcode label technology, which enables accurate scanning distances of up to 15 metres.
The signs are double sided to maximise accessibility, enabling barcode labels and loading bay numbers to be clearly visible from both the racking areas and the loading bay zones. The result is that workers are able to pick stock to easily and scan the barcode from the racking area to let the WMS know that the pallet has been dropped off at its assigned location. The other side of the sign allows the person loading the vehicle to easily scan the barcode to inform the WMS that the pallet has been loaded.
"The site is very busy with 80 loading bays and frequent forklift truck movements. A robust system was required to give visible guidance for all pallet and forklift truck movements," said inotec UK sales director David Stocker.
"Our solution was to replace existing lines with our long lasting DURAline Rapid Shield UV cured top coat system and to install 80 overhead signs in a bespoke design to highlight the locations of the loading bays. The durable UV line marking and overhead signs are safe for the staff and they have also improved efficiencies at the facility."
inotec will be exhibiting at the IntraLogisteX exhibition, held on Tuesday 26th and Wednesday 27th February 2019 at the Ricoh Arena, Coventry. Book your place here: www.intralogistex.co.uk