Interroll is expanding its modular platform solutions with a new infeed designed to work with its crossbelt sorters.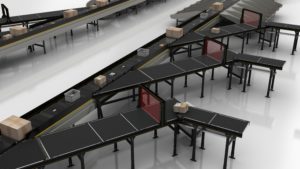 The new infeed modules combine higher infeed speeds with reduced space requirements to offer a potential increase in goods flow in automatic sorting systems.
The new infeed conveyors consist of multiple conveyor belts that are driven independently of one another. This makes it possible to adjust the transport speeds precisely to meet the requirements of each sorter, allowing users to achieve optimum infeed rates for the conveyed goods.