The IntraLogisteX exhibition got off to a flying start at the Ricoh Arena in Coventry with a record number of visitors attending to see the latest in logistics technology on show from some 150 exhibitors.
The exhibition features a series of product launches while conference sessions covered a range of key issues from dynamic work optimisation to preparing your business for the robotics revolution.
The exhibition has attracted a host of new exhibitors such as Conker – a UK producer of rugged tablets, touch screen and mobile devices. The company focuses on a consultative approach. Chief executive James Summers highlighted two key trends in the market – a move to the Android operating system in the rugged device market, as well as a move towards the use of smaller devices.
Automation is strongly represented at the exhibition with exhibitors such as Knapp, SSI Schaefer, Daifuku, AutoStore.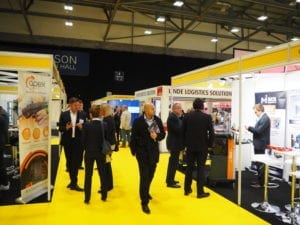 Linde exhibited its latest automated systems, while AGVs are on show from iCart and EK-Automation.  Guidance Automation is also exhibiting focusing on developments in autonomous vehicles.
Likewise, ProGlove is exhibiting its new MARK 2 wearable barcode scanner which features Bluetooth and is capable of scanning distances of up to 150 cm.
And Red Ledge is discussing the launch of its new launching its new warehouse management and control system solution which utilises automation to optimise warehouse control.
Likewise, the conference programme attracted many visitors as they sat in for sessions from Lucas Systems, BOARD, OrderWise and SPAR International.
OrderWise senior sales manager Jon Roberts spoke about the benefits and importance of robotics within the warehouse.
And the dramatic changes in consumer behaviour and their impact on the supply chain came under scrutiny by Tom Rose, head of international operations at Spar International.
Find out more information here.