Doors to Hall 6 of the NEC, Birmingham have officially opened for the IntraLogisteX and Robotics and Automation exhibitions, co-located for the first time ever.
There's a lot in store for the attendees over the two days of the event including conferences, networking opportunities, and the chance for visitors to speak to representatives from some of the biggest names in logistics and robotics to find out more about solutions to significantly improve operational efficiency and productivity.
Nearly 200 exhibitors are in Birmingham for the show, many with exciting demonstrations and interactive stands to showcase the latest technologies and strategies that are revolutionising the logistics industry.
There are also three conference theatres: The IntraLogisteX Keynote Theatre, The Technology and Process Theatre, and The Robotics and Automation Theatre. Over the course of two days, 60 expert speakers will share their valuable insights about a range of topics relevant to the industry.
The IntraLogisteX Keynote Theatre will have sessions delivered by seasoned practitioners and industry experts. The Technology and Process Theatre will feature case study presentations from exhibitors focusing on the benefits delivered by their products and services. The Robotics and Automation Theatre will host sessions from both industry experts and exhibitors at the co-located Robotics and Automation exhibition who will share the secrets to their operational success. The full list of conference speakers is available here.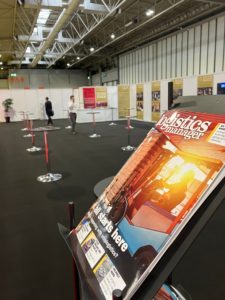 Logistics Manager is at Stand r520, alongside the Supply Chain Excellence Awards area with videos of the successful event in 2022 and all the details on this year's awards. Feel free to stop by and speak to us!