IntraLogisteX is the place to 'B' for logistics and warehouse management professionals as the Ricoh Arena in Coventry hosts some 125 exhibitors from across the world of materials handling and intralogistics on 1st and 2nd October.
The show will 'B' bubbling over with the best, brightest and biggest suppliers of automation, packaging, warehouse management, software, storage, robotics and infrastructure services in what promises to 'B' a show you cannot afford to miss.
The logisticsmanager.com A to Z guide to IntraLogisteX 2020 lands on the letter B, so there is no better time to plan your visit.
B is for Building Contacts. Yes, you can do meetings over Zoom when working at home during lockdown but nothing beats the thrill of meeting new people (all within the comfort of the IntraLogisteX safety plan of course) and building up your contacts base. You never know who you might meet and what they could do for you.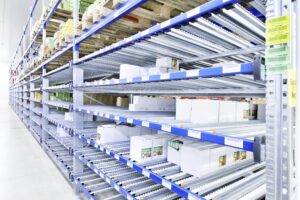 IntraLogisteX 2020 is also home to seven exhibitors beginning with B starting with Bito Storage Systems (stand 116) which will be shining a spotlight on order picking. Its experienced team will be on hand to discuss how the latest order picking technologies and techniques are playing a crucial role in assisting leading retailers, manufacturers, and logistics service providers in boosting productivity.
Blue Cube WMS (stand 333) provides a modern, best of breed warehouse management software to a wide range of customers including 3PLs; manufacturing; B2B and B2C retail and e-commerce; distribution and pharmaceuticals.
Over on stand 724 safety products specialist BoPlan has only one goal: the protection of people, vehicles, buildings and infrastructure while on stand 404 BÖWE SYSTEC will be showcasing its one stop shop for e-commerce, integrated warehouse solutions – including OptiSorter, RFID, WMS, WCS and cost effective AGV technology. Also on show will be 'The Tugbot' capable of pulling up to 500kg of weight and virtually any type of wheeled trolley.
Finally, BS Handling Systems (stand 522) has a wealth of experience in the logistics, sortation and automation environment, having installed integrated conveyor systems and sorters for large 3PLs, together with mezzanine floors, racking and shelving systems for many high street and e-commerce giants. Why not prepare for your visit to IntraLogisteX by registering for a free webinar looking online fulfilment, picking accuracy and omnichannel strategies for success. It takes place on Tuesday 15 September at 11am, with unique insight from sponsors GreyOrange and BS Handling.
In case you missed it… there's many A reason to attend IntraLogisteX. Check out our A to Z of IntraLogisteX beginning with the letter A.

Registration of IntraLogisteX 2020 is open today, so don't miss out! And come back to logisticsmanager.com every day for the full A to Z guide to the only intralogistics and materials handling exhibition to take place in the UK in 2020.