UK distributor for SANY equipment Cooper Specialised Handling has supplied iPort, Doncaster with two SANY SRSC4535G reach stackers.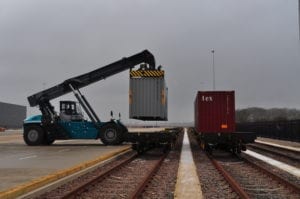 The reach stackers will be used primarily for the handling of laden and unladen containers, alongside servicing road traffic on a 24-hour basis. The reach stackers feature a hydraulic sliding cabin for improved visibility and ease of maintenance.
The reach stackers are finished with a paint thickness of 250 microns, to cater to equipment that is expected to spend 25 years in marine environments and feature iPort's own corporate livery. Fully inclusive maintenance support is provided by Cooper Handling Solutions
"As part of this process we visited several installations where Cooper has supplied and maintains SANY equipment and the uptime requirements are equally as critical as those we envisage. We were able to appreciate the productivity improvements the brand is capable of delivering and overall the SANY/Cooper package adds up to a highly cost-effective handling solution that is an ideal fit for iPort," said iPort managing director Steve Freeman.