Insulation manufacturer Isover has awarded a £15 million five-year transport contract to CM Downton.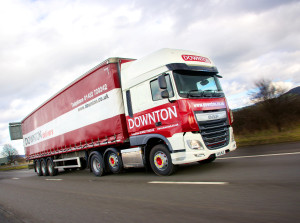 Isover, which is part of the Saint Gobain group, manufactures mineral wool insulation products at Runcorn in Cheshire.
Downton has taken on the management, transport and shunting teams from the previous transport provider under TUPE and also acquired a number of Isover-liveried trailers.
John Pointon, Isover supply chain manager, said: "Downton was able to demonstrate innovation and value that will support Isover's on-going business growth with added stability. Part of the transfer to CM Downton will include updated branding to 20 of Isover's trailers in line with the company's new Sound Good Factor campaign."
The previous transport provider had co-ordinated operations of its own fleet and multiple sub-contractors to arrange the collection of loads from the factory. Limited space on the site for loading meant there could be scheduling issues and periods of congestion.
Downton has a site just 400m from the factory and will shunt finished products there directly from the factory store reducing the number of movements at the factory.
The operation involves daily deliveries of between 30 and 35 loads of palletised slab and roll insulation weighing up to ten tonnes. These are delivered as full and multi-drop loads to Isover's building trade customers and other stockists.
Downton is using a core fleet supported with resources from its wider network to ensure a high proportion – typically over 90 per cent – of loads are transported using its own vehicles.