The January 2019 issue of Logistics Manager is out now online as well as for the iPad and Android.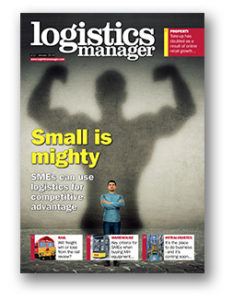 Cover story: Small but mighty
SME logistics operations face many of the same challenges as those of a larger corporation. However, the obstacles are where SMEs differ…
IntraLogisteX: The show that keeps on growing
IntraLogisteX 2019 kicks off on 26th February with more exhibitors, visitors, seminars and speakers than ever before.
Rail: Will freight benefit from rail review?
The government has launched a review into the whole structure of the rail industry, but the focus is very much on passenger services, so could freight end up losing out?
Analysis: Botched Brexit
The frustration of business leaders with the increasingly chaotic Brexit process became only too apparent, when it was revealed that prime minister Theresa May would face a vote of no confidence from her own MPs…
SMEs: Do you take this MHE?
SMEs look to invest in MHE to increase operational efficiency and want and need nothing but the best of what's on offer.
---
Click here to subscribe to the print edition of Logistics Manager