The John Lewis Partnership reaffirmed its commitment to investing in supply chain and IT despite a fall in profits in the first half of 2016.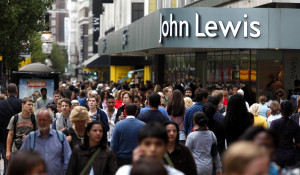 Group revenue was up 2.2 per cent to £4.7 billion but profit before tax was down 14.7 per cent to £82 million. Chairman Sir Charlie Mayfield said the fall in profits reflected market conditions "and in particular, steps we are taking to adapt the partnership for the future".
At Waitrose, operating profit before exceptional items was down 10.5 per cent to £121.3m, impacted not only by the market conditions but also increases in pay to maintain differentials, investment in IT and higher supply chain costs following the transition to the new national distribution centre operation.
At John Lewis, operating profit fell by 31.2 per cent to £32.4m. "More than half of this decline was due to transitioning costs in our distribution network as we temporarily maintain legacy sites to smooth the transition to Magna Park, and increases in pay to maintain differentials. The balance of the reduction reflects the continued shift to online and a market dynamic of competitive pricing, both of which we expect to continue into the second half."
Mayfield highlighted the fact that its ownership structure made it "especially important that we manage the Partnership carefully and thoughtfully for the long term and our plans anticipate the impact of these bigger changes. Evidence of that is already showing within these results and will become increasingly evident as we implement our long-term strategy."
JLP's strategy for the future has three main themes including anticipating "the significant changes in how customers are choosing to shop and we are renewing our focus on strengthening the appeal of our two well-loved brands. This includes continuing with a greater proportion of investment in IT and our supply chain – both are critical to improving service and convenience."
Another element is strengthening the group's financial position which includes changes to the pension scheme and a seven per cent reduction in capital expenditure to reduce net debt.
The third element is creating better jobs for better performing partners. The interim report said it had ensured that partners' pay remained well above the national living wage. "However, higher pay depends on better productivity and greater contribution and we anticipate that this will mean we will have fewer Partners over time as compared to today."