John Lewis & Partners has warned of a worst-case economic scenario that would see sales declines of 35% in its John Lewis retail division, while Waitrose could fall 5% in a weakened economy despite strong gains in recent months.
It said that Waitrose had see sales grow 8% year-on-year since 26 January, with items such as rice, pasta, long life milk; home baking; frozen foods and cleaning products in high demand.
It said that demand for home delivery had been "especially strong" and it had increased its capacity by 50%, which it believed would put it in "good stead" ahead of the ending of the Ocado contract in September.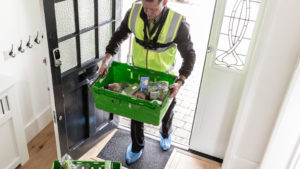 However it said that in John Lewis, trading had been mixed and with stores closed, it had seen a significant spike in online sales, which were up 84% year-on-year since the middle of March.
Learn more on Logistics Manager
Waitrose.com expands footprint ahead of Ocado split
Supermarket sales top £10.8 bn in four weeks with fastest growth rate in a decade
XPO Logistics wins Waitrose & Partners contract
Furthermore the lines in highest demand were some of its less profitable lines, with chairman Sharon White noting that" "We are buying more Scrabble but fewer sofas". Overall, John Lewis sales were down 17% year-on-year since the middle of March, and down 7% year-on-year since 26 January.
It said that its worst case scenario for the full year assumed a "significant sales decline" between April and June, and weak sales thereafter.
It said that over the course of the full year, this worst case scenario would result in a sales decline of around 35% in John Lewis, around double the current level, while at Waitrose it would result in a more modest decline of less than 5%.
It also stressed that it its warehouses and distribution operations it was operating social distancing and maintaining high health and safety standards.