The June 2018 edition of Logistics Manager is now out in print, online and for iPad and Android.
Cover story: A new world is dawning
Digitalisation is rapidly becoming the buzzword of 2018, but what does it really entail?
Penelope Ody:
Retailers plan for life outside EU
Extended supply chains: Controlling the sprawl
How extended supply chains have changed the way logistics is done.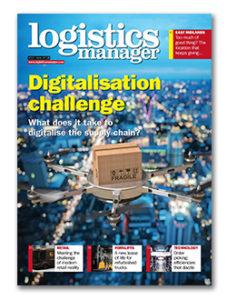 Retail: Strategies under scrutiny
Bringing supply chains into line with today's retail reality.
East midlands: Too much of a good thing?
It's the location that can't stop giving – but does that mean
that occupiers can get a good deal?
Urban sheds: The only way is up
Land intensification is on the cards in London
Order picking: Polished picking
Picking is a crucial link in retail supply chains, and the pressurised environment of e-commerce is creating some dazzling efficiencies.
Forklift trucks: A new lease of life
Used forklift trucks are making their mark on the market, but how do they compare to new equipment?
Click here to subscribe to the print edition of Logistics Manager