Jungheinrich has unveiled a remote control unit 'easyPILOT Follow' – a semi-automated control unit that enables a connected ECE order picker to follow the operator automatically.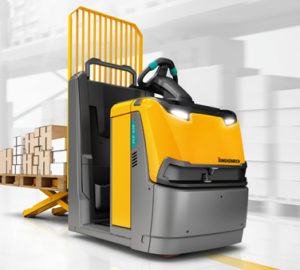 The operator and order picker are linked by the remote, which can be worn or carried. The operator is able to set and change the stopping/moving distance with one click. Sensors are constantly checking where the remote control is.
The order picker connected with the remote control positions itself so that the goods can be set down at the right place on the fork.
The semi-automation is made possible with UWB wireless technology.
"With the introduction of the easyPILOT Follow, we now offer the largest control portfolio on the entire market," said Gunnar Tons, head of product management for juniors at Jungheinrich. "The product is a true high-end solution, which sets us far ahead of our competitors in terms of customer benefits and price-to-performance ratio.
"Our remote solution maximises efficiency and minimises error frequency while reducing the strain on the operator and enhancing safety in the warehouse."
Jungheinrich will be exhibiting at the upcoming IntraLogisteX Exhibiton, taking place on 27th and 28th February at the Ricoh Arena.