Jungheinrich has launched the ETV 216i – the first ever reach truck with a standard built-in lithium-ion battery, according to the materials handling business.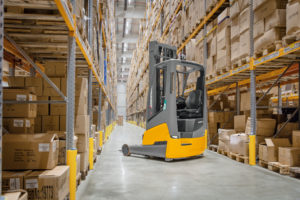 The new truck has improved ergonomics, incorporating its customer's ideas and requests into the design. It provides more freedom of movement and all-round visibility.
According to Jungheinrich, the new truck has short charge intervals that enable 24/7 operation, and is able to stack loads weighing up to 1600 kg to a lift height of 10.7 meters.
"The new ETV 216i is the latest demonstration of Jungheinrich's innovative capability," said Dr Lars Brzoska, member of the board of management at Jungheinrich AG. "We are the first manufacturer in the industry to consistently implement the advantages of lithium-ion technology already in the design of our trucks.
"The permanently installed lithium-ion battery makes the ETV 216i the most compact and best performing truck in its class. Jungheinrich customers will benefit from better ergonomics, easier manoeuvrability and greater efficiency.
"In the future we will also consistently use the advantages of lithium-ion technology in the design concept of other truck types, thereby creating a whole new generation of fork lift trucks."