KFC has apologised to customers over delivery problems that have forced some restaurants to close while others have had to work on a limited menu or shortened hours.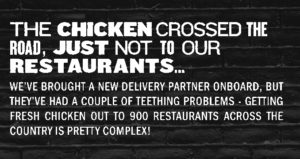 In October last year, KFC awarded DHL and QSL the contract for supply and distribution of food products, packaging and consumables to its UK restaurants. However there have been teething problems with the start of the contract.
In a statement, KFC said: "We've brought a new delivery partner onboard, but they've had a couple of teething problems – getting fresh chicken out to 900 restaurants across the country is pretty complex!
"We won't compromise on quality, so no deliveries has meant some of our restaurants are closed, and others are operating a limited menu, or shortened hours.
"We know that this might have inconvenienced some of you over the last few days, and disappointed you when you wanted your fried chicken fix – we're really sorry about that."
DHL also apologised. A spokesperson said: "Due to operational issues a number of deliveries in recent days have been incomplete or delayed. We are working with KFC and our partners to rectify the situation as a priority and apologise for any inconvenience this may have caused."
The GMB union, which has members at Bidvest Logistics which held the KFC contract before DHL took it over, said it had warned that the move would have consequences.
GMB national officer Mick Rix said: "We tried to warn KFC this decision would have consequences – well now the chickens are coming home to roost."
"Three weeks ago KFC knew they had made a terrible mistake, but by then it was too late," he claimed.