More than 100 leaders in robotic and automation technology exhibited at Robotics and Automation, including KUKA, ABB, Knapp, Dematic, Universal Robots and Tharsus.
The exhibition included a number of product and business launches. Element Logic, the original AutoStore partner, exhibited at Robotics and Automation just weeks after launching in the UK.
*The exhibition was a first in the UK for Geek+, China's number one supplier of warehousing and logistics solutions.
Geek+ exhibited at Robotics and Automation fresh from a major deployment of its Geek Picking System at Empower in Hong Kong. The innovative goods-to-person solution automates order fulfilment to deliver higher throughput with cost-effective and work-productive performance. The robot area of the Empower warehouse is around several thousands square meters, implementing 65 units of Geek Picking Robot. Combing with high-rise inventory racks, the space utilisation of the warehouse has been maximised.
* L3 MacDonald Humfrey Automation highlighted the way it extends its customer offering with the use of virtual reality when it comes to bespoke solutions, while SP Technology showed a bespoke demo machine, the eXtended Transport System.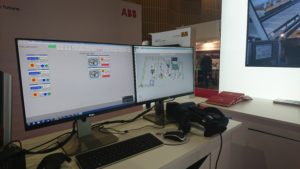 Before providing a bespoke solution, L3 MacDonald enables the customer to view the solution action by bringing together the physical and digital stimulations of the product. The design model is aligned with the point cloud and an intelligent model is added to generate a replica of how the final product will appear.
The operator can interact with it from a screen and see all the components and machines working together, as well as using virtual reality. The VR headset allows operators to be trained ahead of implementation of the solution.
Likewise, by bringing together the digital and physical replicas to an interactive platform means that there are no geographical restrictions when working to produce the automation solution, said automation systems manager Will Watt. This enables multiple people to be interacting with the platform from multiple locations or from one office. This speeds up and simplifies the bespoke process.
The AR solution is an extra stop in interaction, continued Watt, and provides a smooth transition for operators as they can engage with the solution before it lands, providing then necessary training and maintenance skills. In essence, L3 MacDonald Humfrey has "automated the manufacturing of the digital world," said Watt. And this has been a three to four year journey.
* SP Technology showed its bespoke demo machine, the eXtended Transport System, in collaboration with Beckhoff.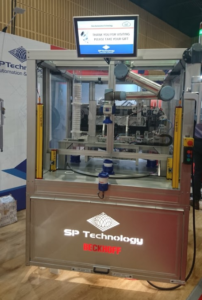 The aim of the demo machine is to start a conversation and to show the quality of bespoke solutions offered by SP technology. And it does not disappoint – the machine provide an example of how versatile automation solutions can be, built to manufacture anything from contact lenses to putting stress balls in cups.
"The great thing about bespoke automation is that we can incorporate the latest technologies into our machines, said SP Technology. "The eXtended Transport System (XTS) from Beckhoff Automation combines the advantages of rotary and linear drive principles in a single system, opening the door to completely new ways of implementing compact and highly dynamic machine concepts."
SP Technology provides a complete turnkey package, providing solutions across the UK and complete after care and installation. Solutions range from £2,000 to £2 million.
* Returning exhibitor ABB has been expanding its expertise in the fast-growing logistics automation market, with the acquisition of intrion, a privately owned company headquartered in Huizingen, close to Brussels.
"The acquisition is a milestone for ABB's entry into the logistics market and will significantly advance our logistics robotics automation offering," said Sami Atiya, President of ABB's Robotic and Motion division. "The growth of e-commerce and shift to mass customisation means our customers are handling a wider variety of packages with ever-increasing delivery expectations and we are helping to ensure they are well equipped for that shift."
* Knapp has built its reputation on some very large automation projects, notably with John Lewis at Milton Keynes. But at Robotics and Automation it is also focusing on its Pick-it-Easy Robot – a fully-automatic picking solution for logistics applications. It has been developing the robot for some time and by using different grippers, the robot can now process a wide range of articles – the intelligent robot automatically selects the suitable gripper and the optimised dynamic values for the gripping process of the article.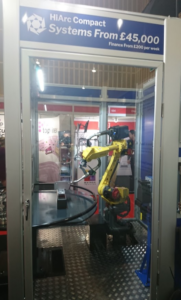 * Bauromat showed off its new product, the HiArc, an entry level automation solution for welding.
The automated solution is useful for business looking to start incorporating automation solutions into their operations and can be integrated into existing operations and linked up to a cloud base.
This is a cost-effective solution which ensures improved product quality and operational efficiency. The automated solution provides increased safety with a guarded system.
Output is depended on the components manufactured and is said to provide two and a half times more operational output than a human worker.
By implementing an automated welding machine businesses can upskill and reduce labour costs. Bauromat provides training for operators and technicians for around £1,900.