Leidos UK, the company behind the Ministry of Defence's £83 million fulfilment centre at Donnington, has named Matt Wiles chief executive.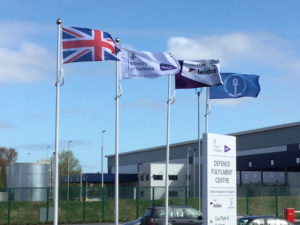 Wiles is currently senior vice president and managing director, and has played a key role in Team Leidos' delivery of the MoD's Logistic Commodities Services Transformation programme, which includes the Donnington operation.
The Defence Fulfilment Centre, which opened in April last year, is an 80,000 square metre facility storing food, clothing, general, and medical supplies for the UK Armed Forces.
It is operated by Team Leidos, which consists of Leidos, Kuehne+Nagel and TVS Supply Chain Solutions.
The DFC programme is expected to generate £500 million in savings over the next 15 years.
Before joining Leidos, Wiles served in the Royal Air Force, leaving as air vice-marshal. During his career, Wiles worked as the director general of the UK joint support chain, with responsibility for 7,000 staff and annual purchases of over £2bn, and as the chief of personnel for the RAF.
Roger Krone, chairman and chief executive officer of Leidos said: "Matt has been fundamental to the success of Leidos in the UK. His leadership of Team Leidos and the success of the LCST project in delivering enhanced information technology and logistics services to the UK's Armed Forces demonstrates the opportunities the UK can unlock through technology, service and partnership".