Lidl, which opens its distribution centre at Avonmouth this week, is to increase the wages of more than 17,000 of its employees in the new year.
It will be increasing entry-level pay from £8.75 to £9.00 per hour outside of London and £10.20 to £10.55.The increases will cost of £8m.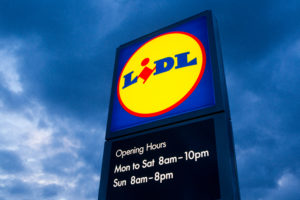 Chief executive Christian Härtnagel said: "With our newest warehouse opening this week in Avonmouth, and a further five set to open in the coming years, along with our pipeline of new stores, we look forward to welcoming more people into the Lidl team."
The new RDC, on a 33 acre site at Avonmouth, is twice the size of the existing facility at Weston-Super-Mare.
The wage rise, which will come into effect from 1st March 2019, means that Lidl employees will be paid almost almost ten per cent more than the government's 'National Living Wage', announced in the latest Budget.
In September, Lidl purchased a 38 acre site in Gildersome, Leeds for a new 60,000 sq m regional distribution centre.
The other distribution sites in the pipeline are Doncaster, Bolton, Peterborough and Luton. The purchase of the site forms part of Lidl UK's £1.45bn expansion investment in the UK across 2017-18, and also follows the opening of two new RDCs in Exeter and Wednesbury in 2017.