Lidl is to offer its UK customers five kilo boxes filled with fruit and vegetables which have become slightly damaged, discoloured or deteriorated but are still edible for £1.50, following a trial in August last year.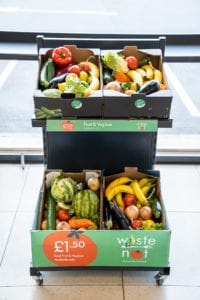 The "Too Good To Waste" boxes are put together daily in-store and are available to customers from opening until midday, after which any leftover boxes are given to local good cause through Lidl's surplus food redistribution programme, Feed it Back.
This initiative has eliminated 250 tonnes of food waste. And the national roll-out is set to save thousands of tonnes of usable product from going to waste each year.
"The positive feedback that we have received off the back of our trial has been incredible," said Lidl GB CEO Christian Härtnagel. "The really brilliant thing about this initiative is that, not only is it helping to tackle the highly important challenge of food waste, it's also helping our customers make even more savings.
"Additionally, it's a great example of how we, as discounter, can use our lean and efficient business model to fulfil our mission to make good, healthy food more affordable and accessible, while acting sustainably," he added.
The initiative is part of Lidl's commitment to cutting food waste by 25 per cent in store by 2020, underlined by its Sustainable Development Goals' 12.3 target of 50 per cent by 2030.