Lidl's Eurocentral regional distribution centre in Scotland is in its first stage of construction and is to erect its full frame comprising of 4,000 tonnes of steel which will take 12 weeks.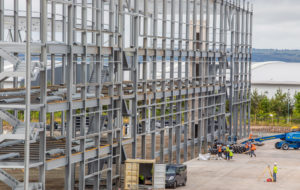 The full site will measure 51 acres and is to be ready by winter 2019 when 400 Lidl colleagues are to relocate from the current Livingstone warehouse.
The relocation is part of Lidl's plan to invest £1.45bn in Great Britain in 2017-18. It will also create up to 360 new jobs.
"The facility will help us make sure that Lidl stores across the country can continue to serve the increasing demand from our customers," said Lidl UK managing director for Scotland Ross Millar. "It's great to see the building begin to take form, which is down to the hard work of many people across the business."