Europa Worldwide Group division Europa Warehouse has said that its £60m warehouse in Corby, Northamptonshire will open on schedule, despite the impact of Covid-19.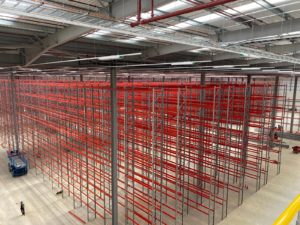 Linde Material Handling UK started working on the project with Europa in August 2019 and has supplied 78 miles of pallet racking space – with an overall capacity of 97,000 locations – as well as the sprinkler system, labels, barriers, safety mirrors and site management.
The Corby warehouse comprises 715,000 ft² dedicated to logistics, including above market standard 18 metre heights to facilitate three floors of mezzanines, on a 25-acre site. To maximise the height of the building, racking is built to nine levels and utilises the very latest VNA technology from Linde.
Mike Hawkins, head of logistics solutions at Linde Material Handling UK, said: "This installation has been most challenging as we were due to start the racking installation on the day the UK was put into lockdown due to Covid-19.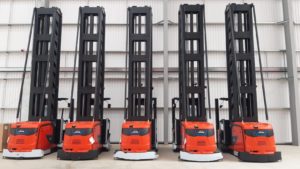 Learn more on Logistics Manager
Linde develops social distancing app
Linde Material Handling UK delivering 'high volumes' during COVID-19 pandemic
Europa refreshes entire Dartford hub forklift fleet
"Working with all our partners, the Linde HSE team and the customer, risk and installation method statements have been reworked to ensure compliance with the government guidelines. With new working practices in place the installation is heading towards completion."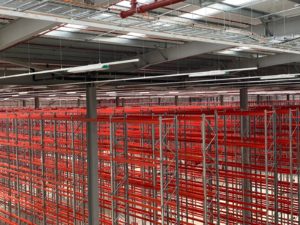 Linde also devised a detailed materials flow study using STRATOS, a simulation programme to confirm the amount of material handling equipment required for each phase of installation.
Wide aisle racking has been developed which can be changed into narrow aisle racking as additional storage is required. The racking frames are full height with a 16300mm top beam, and wire guidance has been installed down the front face of the wide aisle racks. VNA trucks with a reach of 11,500mm will be used to access the top locations.
Europa is also using Linde Material Handling's Navman navigation system, which will integrate with Europa's WMS system directly into the forklift, assisting the operator in maximising pallet movements.
Linde is also suppling the counterbalance and ride on powered pallet trucks at the Corby site, with an initial fleet of 27 lithium-ion powered units ordered.

Linde Material Handling (stand 512,610) will be at IntraLogisteX 2020, which takes place on 29th and 30th September at the Ricoh Arena, Coventry. For more details go to:  www.intralogistex.co.uk