Linde used IMHX to demonstrate its latest automated trucks, which have been developed as part of a partnership with robotics firm Baylo.
The trucks can automatically collect, transport and deposit anywhere in a factory or warehouse without the need for human intervention.
The design of the MATIC range means the trucks can operate in a wide range of applications without the need for permanently installed infrastructure such as laser reflectors or inductive guide wires embedded in floors.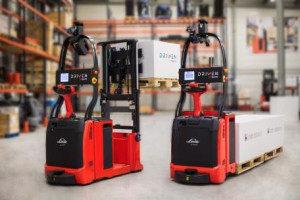 The trucks use a geo-guidance and positioning system which communicates with the warehouse management system to send trucks to the appropriate locations and provide the tasks to be completed there.
Linde also highlighted the fact that the trucks can switch easily and quickly from automated mode to manual operator mode and back.
"Combining Linde product and Baylo's technology, we have created highly functional vehicles for autonomous use, making it possible to implement automated operations in any warehouse or factory," it said.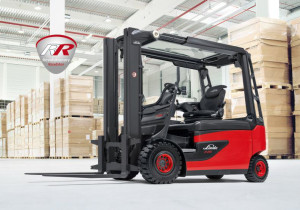 Linde showed its new Linde Roadster for the first time at IMHX. The Roadster is an alternative configuration which applies to models E20 to E50R to increase visibility by removing the A – pillar and replacing the metal overhead guard roof with a high strength safety glass panel for increased visibility when stacking loads. Overhead tilt cylinders absorb the forces acting on the mast during operation and direct them backwards via the overhead guard frame.
Linde also showcased its E16 P lithium – ion counterbalance forklift truck wit h load capacities of 1.6 tonnes. Since the introduction of lithium – ion (Li – ion) technology into Linde's product portfolio, these maintenance – free batteries have proved their
worth in a range of applications, including cold storage and the food logistics sectors. In addition to the initial 24 V battery, the company has since introduced a 48 V battery to extend the range of trucks with this power source. Depending on usage, the customer can choose between two battery sizes and alternative charger s with 9 or 18 kW power outputs to suit the vast majority of applications.