Linde Material Handling has launched a new hydraulic fork positioner; 'View', that improves operator visibility when handling loads.
It allows the operator to adjust the fork spread for each individual load without having to leave his seat. This means that loads can be stored and retrieved loads more quickly and accurately.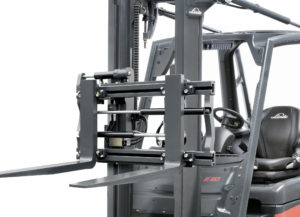 Zuzana Golisova, product manager counterbalanced trucks, said: "Our aim was to increase the operator's scope of visibility to make load handling processes safer. Our research showed that several smaller viewing areas can be more effective than just a few large ones."
The 'View' hydraulic fork positioner is available for all electric and IC-powered counterbalanced trucks from 1.2 to 5.0 tonnes lifting capacity.