Linde has launched two new lighting products, Vertilight and LED Stripes, that can be retrofitted into trucks and new vehicles.
Vertilight is a semi-circle of LED lights to be mounted on the truck's mast to provide safety while storing and retrieving goods on high-bay shelves. The light projects a wide-area, uniform and glare-free light for maximum illumination of the area. The 6,500 Kelvin colour temperature reduces operator fatigue.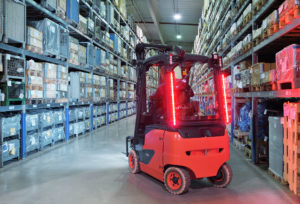 Linde's LED Stripes illuminate areas from close range and are to be attached to the front and rear overhead guard on counterbalanced trucks. One side radiates white light and the other red, so visibility is not impaired. The stripes emit 5,700 Kelvin to resemble natural light.
Both products are part of Linde's safety concept to reduce accidents in the goods handling industry, 'Vision Zero – Safety in your world'.
"Ensuring operator safety is a vital concern when we develop new trucks and products," said David Bowen, warehouse product manager at Linde UK.