Linde Material Handling has published its first sustainability report describing the impact of its 'corporate activities' on society and the environment during 2014.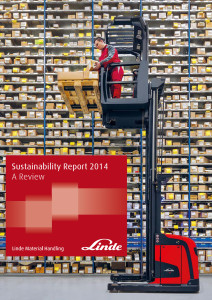 Although the reporting period was the business year 2014 (1st January to 31st December), the forklift truck manufacturer states in the report that important developments from 2015 are included. It said that its sustainability management system (introduced as a pilot programme in 2015), and its associated sustainability strategy provided the principle basis of the report.
The report use data from 12,144 employees across 175 production and sales locations in 13 countries. It focuses on sustainability strategy and management, corporate governance, environmental protection, products and solutions, good employers and community engagement.
"The comprehensive reporting of sustainability data, which will be established in twelve subsidiaries initially and later on in all Linde units, will provide the basis for defining and implementing future priorities, objectives and measures on the way to becoming one of the most sustainable manufacturers of industrial trucks," said Andreas Krinninger, CEO and CFO, Linde Material Handling. "Along with a corresponding organisational structure, clearly assigned responsibilities and the appropriate reporting infrastructure, we have laid the necessary foundations for sustainability, which are now being established throughout the KION Group."